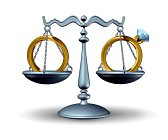 One of the more complicated parts of a divorce is when the courts have to decide on the division of
property. 
This part of the process can be extremely grueling and time-consuming. However, being prepared for what's to come can only help. The process is much easier when the parties involved come to agreements about many of the matters beforehand. Unfortunately, sometimes that is not possible. In a case example from June 2014, the court had to decide on the ancillary matters of property division, alimony, court costs, and counsel fees. The couple agreed on some things, but did not agree when it came to their automobiles, bank accounts, and alimony. Because the parties had stipulated a 60/40 distribution of assets, the court did not have to determine the percent of distribution to apply in the case, and accepted the parties' agreement.
When it came to alimony, the court looked at the factors enumerated in 13Del.C.1512(c). The wife was seeking alimony, so the court looked at what she received in terms of property from the divorce, as well as her ability to meet her needs independently. To do this, the court utilized FinPlan calculations, which found that the wife had a monthly deficit of $1,289. They also looked at the time necessary and expense required for the wife to attain sufficient education or training in order to seek appropriate employment. The court also reviewed the standard of living established during the marriage. Moreover, they took into account the duration of the marriage and the age and physical and emotional conditions of both parties. The court also looked at the husband's ability to meet his needs while paying alimony. Finally, the court looked at any tax consequences and whether either party had foregone or postponed economic, educational or other employment opportunities during the course of the marriage. However, in this case the court found that the husband had insufficient available cash to meet his needs or assist his wife, therefore the husband does not need to pay alimony. However, the wife remains eligible for alimony and may renew her request if there is a real and substantial change of circumstance regarding either of their incomes and/or expenses. Thus, it is important to try and agree on any issues as best as you can prior to the litigation of your divorce petition.
_________________________________________________
Article provided by Denise Feliciano for The Castro Firm
The Castro Firm, Inc.
1719 Delaware Avenue
Wilmington, DE 19806
Phone (302) 225.5700
Fax (302) 225.5702
tabatha@thecastrofirm.com
http://www.TheCastroFirm.com